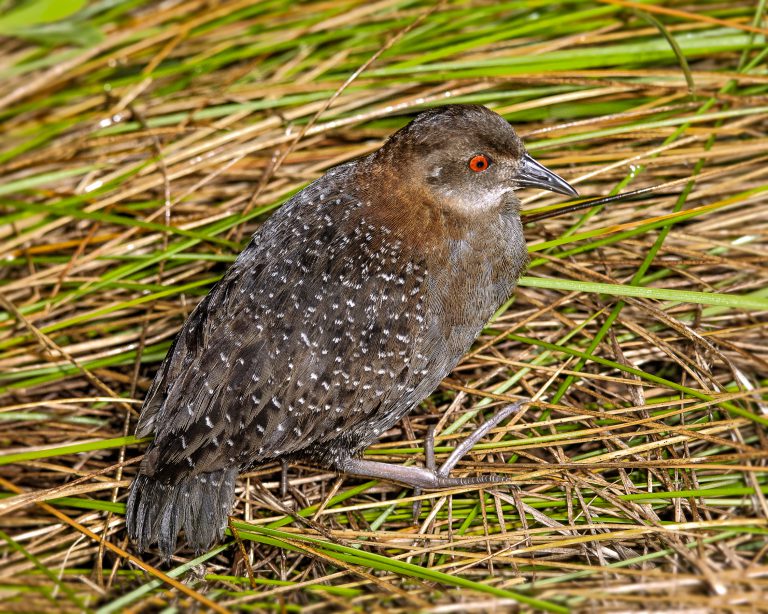 Peaking through coastal marsh grasses, a ruby red eye is barely discernible. Tucked into the heavy cover of the high marsh is a bird so elusive that researchers have dubbed it a "secretive marsh bird." But the black rail is not only secretive, it's rare. The species was federally listed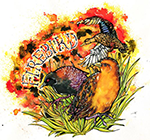 as threatened in 2020.
This squat, grayish bird, which stands less than half a foot tall, is one of three bird species in the northern Gulf of Mexico being studied as part of a research project funded by the NOAA RESTORE Science Program in 2019. The project looks at the impacts of prescribed fire management practices on black rail, yellow rail, and mottled ducks in the Gulf. The project team has given it an efficient title: Firebird.
"It was in conversations as a part of my postdoc that we started to hear about these perceived conflicts between mottled ducks and black rails," said Auriel Fournier, one of the principal investigators of the project who had a postdoctoral position at Mississippi State University when the project began. "I say perceived because no one had any actual data. There was just a lot of concern that management for one species wasn't good for the other."
Working with marsh birds has been a lifelong pursuit for Fournier — her first hands-on experience banding birds was as a middle school student in Ohio. Since her graduate work at the University of Arkansas, Fournier has had a passion for applied research that tackles unique management challenges in coastal wetland systems. She now leads the Firebird team and serves as the director of the Forbes Biological Station, a part of the University of Illinois' Illinois Natural History Survey.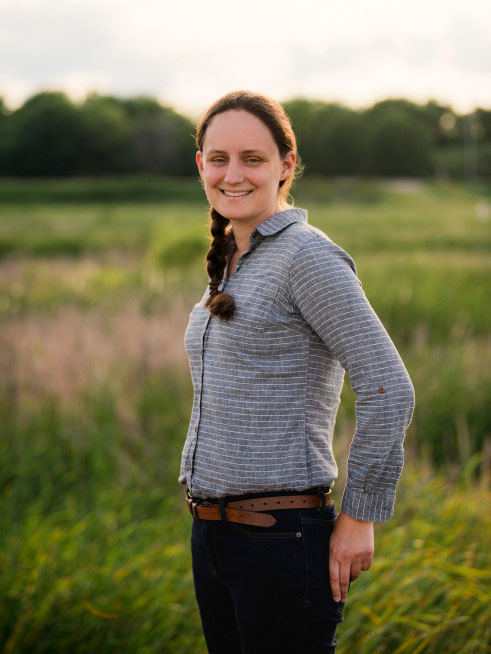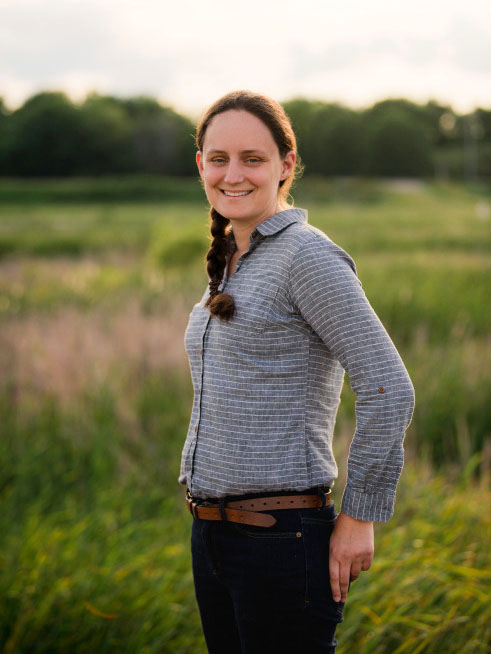 With a team of over 40 people — including biologists, ecologists, climatologists, modeling analysts, and field technicians — applying research to management practices is a major goal of the $3.9 million Firebird project.
Black rail, yellow rail, and mottled ducks are all found in the high marshes of the Gulf. These are coastal wetlands that are submerged by high tides only occasionally, rather than every day like low marsh areas. Prescribed fire is often used by managers in high marsh areas to create quality breeding habitat for mottled ducks. The ideal scenario is that the fire knocks back most dense vegetation while leaving patches of unburned habitat to serve as places of refuge for protected species. Managers have a fairly good handle on the breeding season for mottled ducks — it begins around March and lasts until July — but there is little information about the breeding season for black rails.
"What information we do have suggests that their breeding season is a fair bit longer than mottled ducks," Fournier said. "We don't want to be putting fire on the landscape at the times of year when birds are nesting. We don't want to burn up nests, especially now that the black rail is federally listed."
The key question the Firebird team is asking is: How often can prescribed fire be used in high marsh systems while best supporting the breeding practices and habitat needs of these three bird species?
To answer this question, the team is undertaking ground surveys, a mapping project, a climate analysis, and a study of feather samples to better understand food habits as well as breeding and molting behaviors. All of this information will eventually feed into a model that will illustrate species co-occurrence, distribution, abundance, and provide recommendations for management decisions. The project is organized under the umbrella of adaptive management, an iterative process the team is using to build conceptual models that involves feeding new information into the model to create more accurate and holistic predictions.
"The end goal is absolutely that managers can come to some kind of a web-based tool and say, 'these are conditions of my wetland, this is how long it has been since it's been burned, what does the model say is the likely response in this given wetland?'" Fournier said.
While the project is specifically designed to better inform management of black rail, yellow rail, and mottled duck populations in the Gulf, the Firebird team also hopes the research will help them better understand coastal marsh systems and other species that rely on them.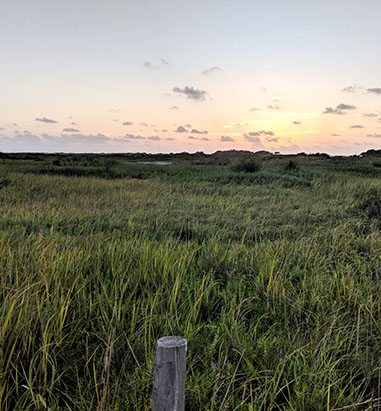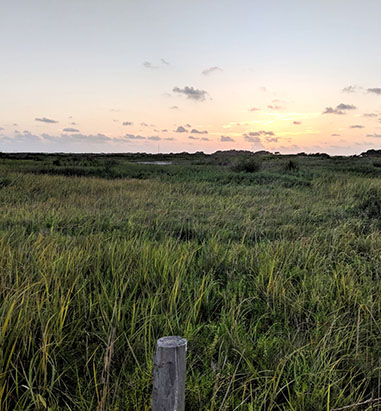 As sea level rises, high marsh habitats are being pinched from both sides — by encroaching ocean waters on one end and development on the other, a phenomenon known as coastal squeeze. The plant communities of high marsh systems are often unable to shift further inland because they are butted up against either human development or pine forests that are too shaded to support high marsh plant communities.
"Both mottled ducks and secretive marsh birds can be used as indicator species for other species," said Jena Moon, a collaborator on the project and biologist with the U.S. Fish and Wildlife Service (USFWS). "They are kind of our canary in the coal mine for coastal marsh health and function."
In her work with USFWS, Moon has worked on this issue on a small scale, but none of her previous work compares to scope of the Firebird project. She called her involvement with the project an "opportunity of a lifetime."
"This project is going to have major implications for what we do on the ground," Moon said.
Moon also pointed out that the project is coincidentally well-timed with the five-year review of the black rail by USFWS, following its listing as a threatened species in 2020.
"This project is going to be wrapping up almost at the same time as that five-year review so we are going to have a ton of new black rail information that will inform that five-year species status assessment, which is major," Moon said.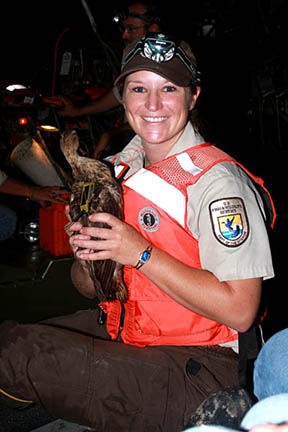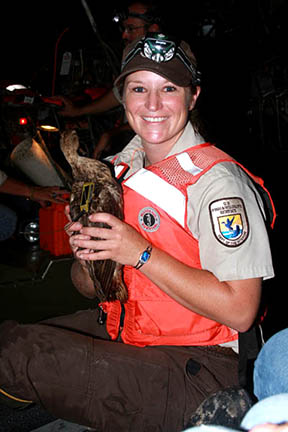 The Firebird team was funded in September 2019 and had to delay their field season because of the COVID-19 pandemic. They will be conducting their first full field season this winter.
Fournier said the massive scale of the project can sometimes feel like "a bit of a beast" with so many variables to consider simultaneously. But she said the interdisciplinary nature of the project has made it both more rigorous and more interesting.
"Getting a mottled duck expert, a black rail expert, and a prescribed fire expert together, you realize that, even though we are all trained as ecologists or biologists, because of our expertise we are often missing a piece of the puzzle when we think about those conceptual models," Fournier said. "It's been really cool to see people coming together and have these light bulbs of like, 'holy crap, I hadn't even thought about that being a factor but yes, we absolutely need to build that into this model.'"
The project is scheduled to be completed in August 2024, but both Fournier and Moon admit that a lifetime's worth of questions have emerged from the process.
"Pretty much every time I think that we have finally wrapped our arms around the problem, someone's like, 'no, here is an additional complication that you need to consider,'" Fournier said.
"Which is fine. These are not simple problems. That's the way it works."
To learn more about the Firebird project, visit the project web page.