DECORATE: Developing an ecosystem-based conservation framework for oyster reefs across Texas estuaries
Previous management of oyster reefs in Texas has included closing oyster reefs to harvest, however the explicit effects of closures on the ecosystem functions of those reefs has not been well documented. The project team will quantify the effects of closures alongside other drivers on oyster reef functioning to help managers decide when and where reefs may benefit from being closed or managed using alternative solutions.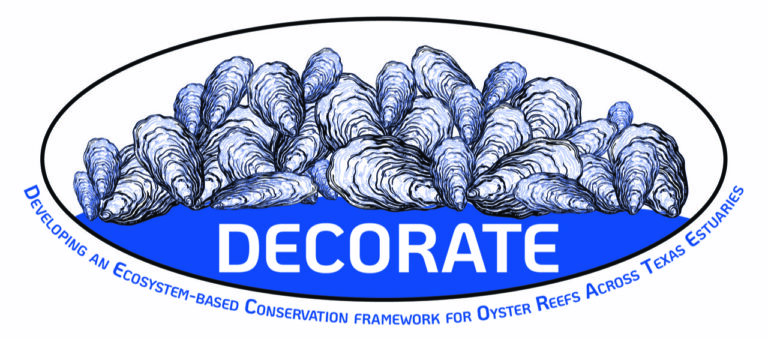 Lead Investigator: Simon J. Brandl, The University of Texas at Austin, Marine Science Institute (simon.brandl@austin.utexas.edu)
Natural Resource Manager: Emma Clarkson, Texas Parks & Wildlife Department
Project Team: Keisha Bahr, Texas A&M University-Corpus Christi; Jennifer Beseres Pollack, Texas A&M University-Corpus Christi; Daniel Coffey, Texas A&M University-Corpus Christi; Jordan Casey, The University of Texas at Austin; Kristin Nielsen, The University of Texas at Austin, Marine Science Institute; Christopher Biggs, The University of Texas at Austin
Collaborators: Lauren Hutch Williams, The Nature Conservancy; Shane Bonnot & John Blaha, Coastal Conservation Agency; TBD, Mission-Aransas National Estuarine Research Reserve; Rae Mooney, City of Port Aransas
Federal Program Officer/Point of Contact: Frank Parker (frank.parker@noaa.gov)
Award Amount: $1,996,417
Award Period: October 2023 – September 2028
Why it matters: Oyster reefs created by the Eastern oyster (Crassostrea virginica) sustain a highly valuable fishery, while protecting shorelines from erosion, enhancing water quality, and providing food and habitat for economically valuable fish species.
What the team is doing: The project will employ high-resolution monitoring techniques across 50 reefs, sampled annually over three years. These methods include a) dredge samples, biomarkers, calcification assays, and sonar-based monitoring to quantify oyster population dynamics and physical reef structure, b) environmental DNA surveys, oyster sampling units, and passive acoustic monitoring to survey oyster reef communities, c) acoustic telemetry, network analyses, and acoustic monitoring of spawning activity to reveal oyster reef habitat use by important gamefish species, and d) water quality monitoring, ecotoxicology, and molecular surveys of diseases and predators to characterize local environmental, biotic, and anthropogenic context.
Expected outcome: A statistical tool will be developed and transferred to the Texas Parks & Wildlife Department to forecast the effects of management actions given local conditions.