Full Title: Assessing Long-term Trends and Processes Driving Variability in Cetacean Density throughout the Gulf of Mexico using Passive Acoustic Monitoring and Habitat Modeling
This project characterizes seasonal, annual, and decadal trends in marine mammal species in the Gulf of Mexico and assesses the role of ocean conditions and human activities in driving these trends.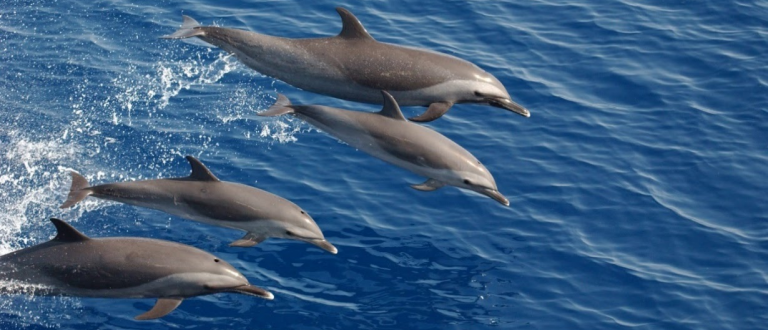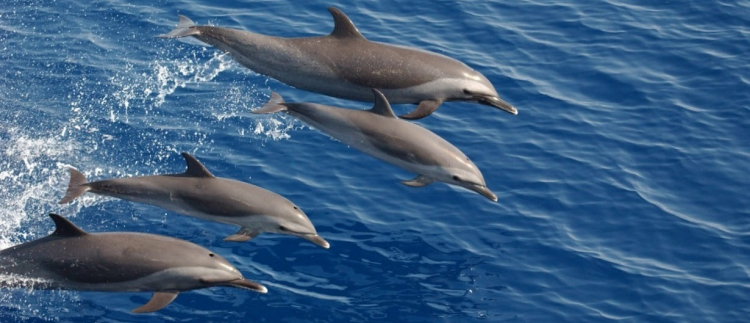 The Team: Melissa S. Soldevilla (NOAA National Marine Fisheries (NMFS) Southeast Fisheries Science Center (SEFSC)), Lance P. Garrison (NOAA NMFS SEFSC), Kaitlin E. Frasier (Scripps Institution of Oceanography/University of California San Diego (SIO/UCSD), John A. Hildebrand (SIO/UCSD), Joel Ortega-Ortiz (Cooperative Institute for Marine and Atmospheric Studies (CIMAS), University of Miami) , Arturo Serrano (Universidad Veracruzana), Adolfo Gracia (Universidad Nacional Autonoma de Mexico), Matthieu Le Henaff (University of Miami, CIMAS), and Carrie Wall-Bell (NOAA National Environmental Satellite, Data, and Information Service, Centers for Environmental Information)
Technical Monitors: Jason Gedamke (jason.gedamke@noaa.gov) and Elizabeth Fetherston (elizabeth.fetherston@noaa.gov)
Science Program Liaison: Pete Key (pete.key@noaa.gov)
Federal Program Officer: Frank Parker (frank.parker@noaa.gov)
Research Area: Multispecies
Award Amount: $3,588,922
Award Period: This project began in January 2020 and will end in December 2024.
Why it matters: The Gulf of Mexico is home to at least 20 species of oceanic marine mammals including endangered sperm whales, Gulf of Mexico Rice's whales, dwarf and pygmy sperm whales, several species of beaked whales, and numerous species of dolphins. In the highly industrialized Gulf of Mexico, these protected species experience threats from commercial shipping, commercial fisheries, and energy development and exploration, including extensive injuries from the Deepwater Horizon oil spill in 2010. Due to their exposure to and injuries from the oil spill, oceanic marine mammals are a focus for conservation, management, and restoration. To assess and manage human impacts on marine mammals, managers require baseline information on species' abundance and location over time, movement, and overlap and response to ocean conditions and human activities.
What the team is doing: This project is using a network of underwater microphones to record marine mammals throughout U.S. and Mexican waters in the Gulf of Mexico to gather information on their location and density throughout the year. The data from this comprehensive and long-term passive acoustic monitoring program is being used to identify the conditions that could be driving seasonal, annual, and decadal trends in the abundance of marine mammals, where they are located, and how densely they aggregate. This project complements existing vessel-based surveys and expands on prior passive acoustic monitoring in the region. This project uses a multifaceted sampling approach. One part consists of acoustic data collection at four historic long-term reference sites and four additional long-term reference sites in the northwestern and southern Gulf of Mexico to obtain long-term trends in marine mammal distribution over time. The second part consists of random acoustic sampling across a grid of 20 short-term sites to obtain additional location information. The third part uses acoustic tracking arrays for short durations at long-term sites to measure acoustic animal behavior. This third part collects the information necessary to convert acoustic detections into estimated densities of marine mammal species. The project team is engaging with federal and state agencies, non-governmental organizations, and private industry to make sure their findings are reaching the people who are making decisions that impact marine mammal management. This project is also coordinated with the Reduce Impacts of Anthropogenic Noise on Cetaceans project supported by the Deepwater Horizon Natural Resources Damage Assessment Trustees.
Expected Outcome: This project will 1) characterize seasonal, annual, and decadal trends and variability in marine mammal species in the Gulf of Mexico, 2) determine whether the processes driving the apparent declining trends are due to animal movements or population declines, 3) quantify the relationships between marine mammal density and ocean conditions and evaluate the oceanographic processes driving short-term and long-term variability in marine mammal density, and 4) quantify the relationships between marine mammal density and ambient noise conditions and evaluate the role of human activities in driving short-term and long-term trends in marine mammal density.