Full Title: Expansion of www.mymobilebay.com for coastal Alabama resource management
This project will improve and expand an observing network and website that provides accurate real-time weather and water quality data to Alabama environmental managers and the public.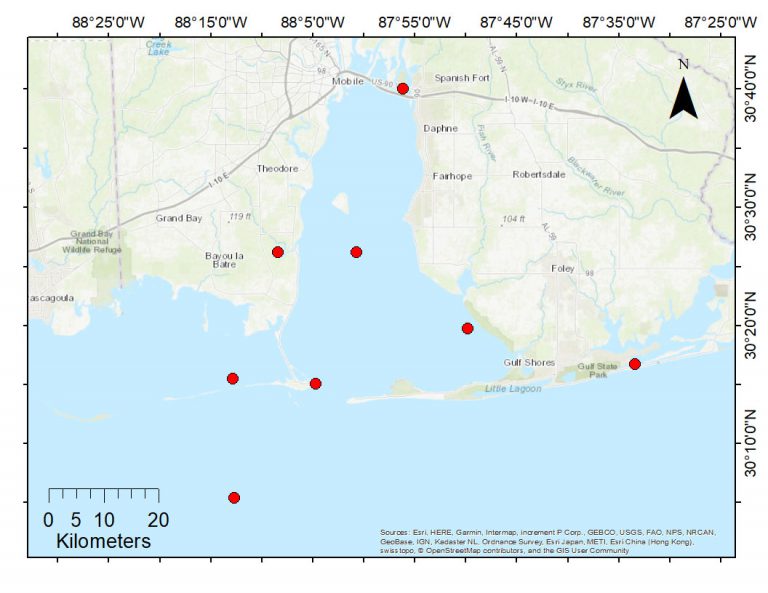 The Team: Brian Dzwonkowski (Lead Investigator, University of South Alabama, Dauphin Island Sea Lab), Renee Collini (Mississippi State University)
Technical Monitor: Grace Gray (grace.gray@noaa.gov)
Federal Program Officer/Point of Contact: Frank Parker (frank.parker@noaa.gov)
This project began in June 2017 and will end in May 2021.
Award Amount: $720,000
Why we care: Effective management of coastal estuaries requires real-time and historical knowledge of water quality such as salinity, temperature, dissolved oxygen, and water clarity. Resource managers and stakeholders can use web-based tools that integrate this water quality data to inform decision-making in coastal waters such as when to close oyster harvesting areas due to poor water quality. Unfortunately, many Gulf of Mexico coastal regions lack web-based tools that effectively integrate available real-time and historical water quality data. However, decision-makers in Alabama have access to the Alabama Real-time Coastal Observing System (ARCOS) which provides high-quality, system wide, continuous real-time water and weather observations in a user-friendly web-based portal, www.mymobilebay.com.
What we are doing: The work conducted will extend the spatial and temporal coverage for the ARCOS and www.mymobilebay.com and add more measures of water quality. This will enhance the usefulness of ARCOS for resource managers by providing them with additional information critical to making decisions about living coastal and marine resources in coastal Alabama. Specifically, the improvements to the ARCOS network will include upgrading four older observing stations to enhance reliability and provide real-time water clarity data, and adding offshore real-time measurements of salinity, temperature and dissolved oxygen by upgrading an existing data collection site.
Expected Outcome: This project will lead to improvements to the ARCOS and its web portal, www.mymobilebay.com, which receives over 7000 visitors per month who use its data to inform coastal decision-making including living resource management and recreational activities. This project will expand www.mymobilebay.com to include water clarity and offshore water quality data, improving the quality and quantity of information available to support coastal management, fisheries, and recreational use in Mobile Bay. This work will also support the use of www.mymobilebay.com by recreational and commercial users who rely on the data it provides for safe and efficient boating, fishing, and shipping.
From the seminar "Expanding Alabama's Real-time Coastal Observing System for coastal management applications"
Presenter: Dr. Brian Dzwonkowski, University of South Alabama